Aircraft Work Stands are available for a variety of different helicopter and airplane models. The work stands are designed to fit the required work area while ensuring the safety of the worker. The use of the work stand has numerous benefits including providing easy access to hard to reach areas, protecting the aircraft from damage, providing safety for employees, and mobility of work services. All work stands carry a limited warranty against manufacturer's defects. Inquire for pricing and availability.
Custom Maintenance Platform
Custom Maintenance Platform Features:
These stands are custom designed to meet the customers needs
They can be made out of steel, aluminum, or a combination of both
We can make stands with access panels for jacks or tooling
Stands can be powder coated or painted any color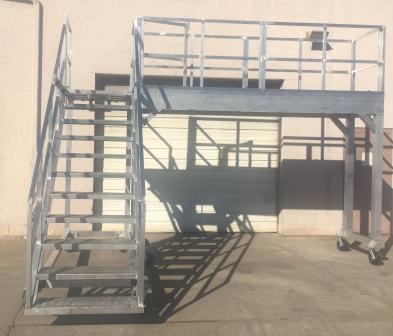 .
All hardware used on critical components is grade 8
We have 100's of quality models of all types of aircraft to make sure you get a perfect form and fit for the aircraft you are working on.
We perform a stress analysis on stands to verify the weight capacity is met with a four times safety factor to ensure the safety of maintenance personnel
We have many options for add-ons for our stands examples;Electrical systems

Air systems
Vacuum systems
Ethernet system
Hydraulic systems
Shelves or cabinets
Drawers small and large
Sliders
Fold out decks
Over fuselage handrails
Multi levels
Safety gates