We build custom drive train system trainers. We can mount a transmission to a stand so your students can rebuild it or you can see so how it operates. We build rear axle housing complete with brake systems that work off of shop air so students can change brakes as well as remove and replace axle shafts or differentials.
We also build custom 5th wheel trainers to students can see how they operate and verify they are working properly.
Driveline trainers for heavy trucks are also available.
Diesel Air Drum
Have all components for drum brake operation (air drums, brake shoes, spindles, wheel bearings, s-cams, brake chambers)
Mirror setup of NICE Orion VII (CNG bus) rear Meritor drum brake assembly with MGM Chamber, Haldex Slack Adjuster & S-Cam
Treadle valve with shop air controls both sides of the trainer
Parking brake controlled by shop air with a ball valve
Allows technicians to disassemble and reassemble rear drum setup within a classroom and shop environment
Similar product has done for disc brake and for other diesel (ex: Bendix) drum and disc brake systems
Universal Fifth Wheel Stand
Adapts to any fifth wheel
Allows rotation of the fifth wheel
Locks fifth wheel at any angle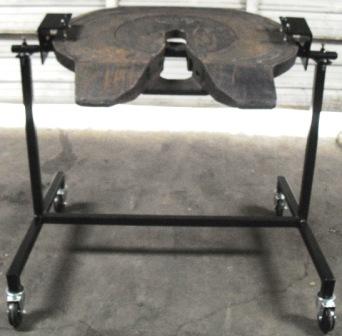 Rolling powder-coated frame